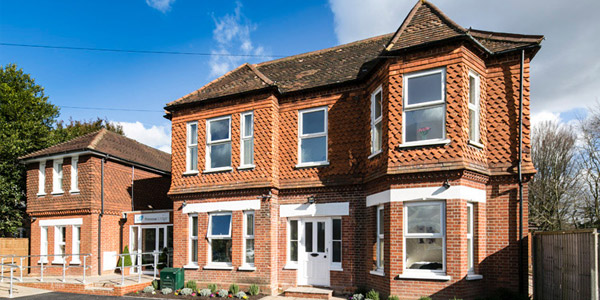 Perry Hill, Worplesden, Guildford, Surrey. GU3 3RY.
Key Points
Private
Holistic Treatment
Onsite gym
Residential
At Primrose Lodge we genuinely care that our patients make a full recovery from their illness. As a premier treatment facility, there has been no expense spared in making our clinic comfortable, attractive and homely with fantastic facilities for our patients to enjoy. We take pride in our clinical excellence and the fact that we are able to offer an exceptionally high standard of treatment and accommodation at an affordable price.
MC
My second treatment centre after relapse. Totally different experience to the first. Focus on therapy and rehabilitation rather than just detoxing which for me personally was not enough. I leave feeling a totally different person with more understanding of myself and my addiction as well as various 'tools' to use to prevent relapse. I feel confident and have hope of a great life now thanks to Primrose Lodge. Staff are wonderful. Caring and passionate about what they do. There are rules, but they are there for a reason and are part of the recovery process. I would recommend Primrose to anyone who knows they need help and cannot do it on their own.
Sarah
Excellent facility. I felt supported by staff & my peers throughout my stay and recovery journey. During my stay I explored my addiction but also the underlying behaviours & emotions - this was invaluable and has really allowed me to get to know more about me and my relationship to my addiction & family/friends. I would certainly recommend the facility to others.
OCD41
Following a 28 day detox and rehab at Primrose Lodge, I feel like a new person ready to face the world again with the tools to continue my recovery. Fantastic, kind and understanding staff together with excellent facilities. Highly recommended to anyone in need.