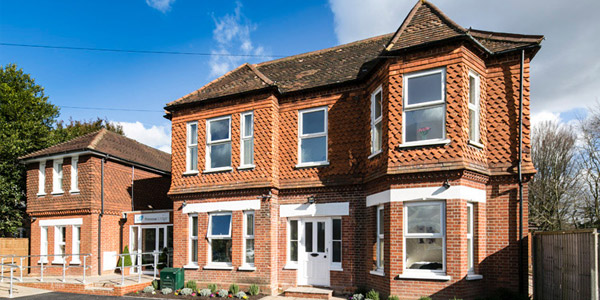 Primrose Lodge
Perry Hill, Worplesden, Guildford, Surrey. GU3 3RY.
Key Points
Private
Holistic Treatment
Onsite gym
Residential
At Primrose Lodge we genuinely care that our patients make a full recovery from their illness. As a premier treatment facility, there has been no expense spared in making our clinic comfortable, attractive and homely with fantastic facilities for our patients to enjoy. We take pride in our clinical excellence and the fact that we are able to offer an exceptionally high standard of treatment and accommodation at an affordable price.
Simon
I arrived at Primrose sick, lonely and lost. The staff took their time to get to know me and my needs and before long I was well integrated in the community. Over the weeks I was there I feel I have improved greatly, and I no longer need any substances to lead a good life! Thanks Primrose
Anonymous
This is an excellent facility. The therapist was outstanding and the support staff were great. It's not luxury but it is comfortable and the food is good - everything you need. Approach your treatment with a sense of purpose and an open and you will be rewarded, most likely with your life back.
Grant Watson
What an experience this has been. I came to Primrose Lodge feeling like a lost cause and with no hope. Primrose Lodge has given me the best possible opportunity moving forward. All the staff have done everything in their power to make my experience and development in recovery the best it can possibly be. I cannot thank them enough. The treatment here is invaluable. Would highly recommend. I will 100% be back to attend aftercare.