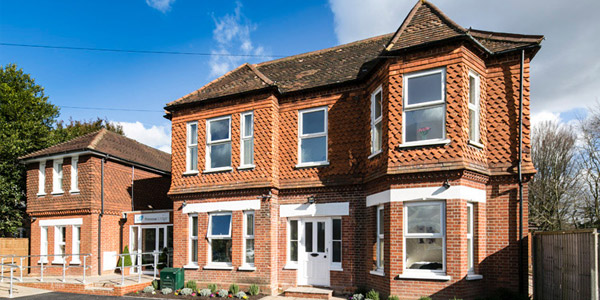 Perry Hill, Worplesden, Guildford, Surrey. GU3 3RY.
Key Points
Private
Holistic Treatment
Onsite gym
Residential
At Primrose Lodge we genuinely care that our patients make a full recovery from their illness. As a premier treatment facility, there has been no expense spared in making our clinic comfortable, attractive and homely with fantastic facilities for our patients to enjoy. We take pride in our clinical excellence and the fact that we are able to offer an exceptionally high standard of treatment and accommodation at an affordable price.
Dayna
I have found my time in Primrose Lodge to be of an extreme benefit to me and also to my wife who has attended the family meetings and a joint therapist meeting also. I have found the staff amazingly supportive, helpful and a real credit to the facility. I have not only learnt so much about myself and my disease, I have been given the tools to go back to my life with confidence and a real sense of excitement of a life in recovery. For this I am truly grateful.
Christopher
Quite, calm, safe environment for detox and rehabilitation. Professional and kind staff. I feel much healthier both physically and mentally and left with tools to develop to continue on a path of recovery.
Rowan
Staff were really friendly and my peers made my time inside the Lodge an absolute pleasure. I am well on the way in my recovery and I would like to thank everyone at Primrose Lodge for helping me feel a million miles better than I did when I came in.