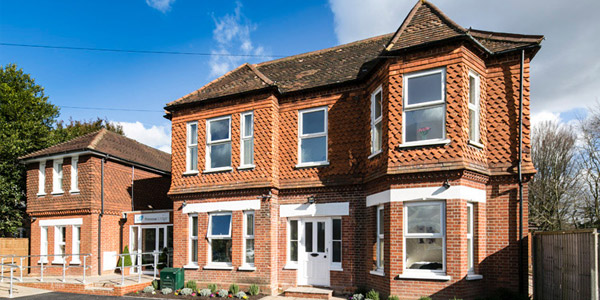 Perry Hill, Worplesden, Guildford, Surrey. GU3 3RY.
Key Points
Private
Holistic Treatment
Onsite gym
Residential
At Primrose Lodge we genuinely care that our patients make a full recovery from their illness. As a premier treatment facility, there has been no expense spared in making our clinic comfortable, attractive and homely with fantastic facilities for our patients to enjoy. We take pride in our clinical excellence and the fact that we are able to offer an exceptionally high standard of treatment and accommodation at an affordable price.
Susan
I came to Primrose to get help with my alcohol addiction, I met real people who identified with me and gave me love and support.I shall never forget the experience. Thank you Maggie my therapist and support staff Carole Johnny and Barrie. Also big thanks to Iben who took my family group. And of course Geoff the Manager. Thank you all
H
I am truly grateful to all the staff at Primrose Lodge for teaching me how to deal with my addiction. I genuinely believe there is no better centre in England and I have tried a few.. I feel I can go home with confidence and whilst I will need to work hard at my recovery I have the tools that have been taught to me to give me every chance of a long lasting recovery. If you are serious about dealing with your addiction this is the place for you.
D
Great place to recover Professional staff Overall great experience Best decision of my life